With a sales team across Canada, buying centres in Vancouver and Toronto, and a commitment to personalized service, we make finding auto finance solutions for your customers easier.
Near-Prime financing

More than 3.5 million Canadians need near-prime financing options, and GM Financial can help get them into a GM vehicle.
Exclusive Lease financing

As the General Motor's lease provider, we provide exclusive lease offers for customers who want options like lower monthly payments or a new vehicle every few years.
XS WEAR® LEASE PROTECTION
Customers often need added protection from unexpected out-of-pocket expenses. Make sure your customers are covered with XS Wear®.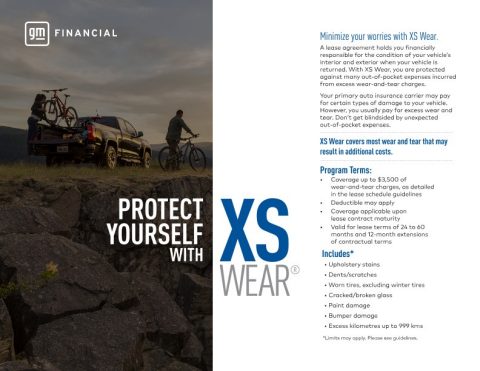 As part of the General Motors family, GM Financial has a vested interest in helping your dealership meet its business goals.

Floorplan Financing

When you need help growing your dealership, look to GM Financial for floorplan financing and insurance, real estate and construction loans, and a cash management program to offset floorplan interest expenses.
GM Financial Dealer Training

Take advantage of our workshops to ensure the staff in your dealership is armed with the knowledge to successfully offer leasing or near-prime financing for your diverse customer needs.
GM Financial's Lease Workshop draws on real-world examples to arm your staff with knowledge and confidence to successfully present leasing as an alternate financing solution. Successful dealerships realize leasing is more than an alternative form of financing; it's an opportunity to generate a steady stream of repeat and referral customers.
During GM Financial's Lease Workshop, your staff will:
Gain a complete understanding of how leasing works
Create a quick, repeatable and profitable process to present leasing
Communicate the benefits of leasing without discussing price and payment, and properly present them to prospective customers
Build the confidence to overcome common lease objections
GM Financial's Near Prime Workshop focuses on near-prime consumers who want an enhanced car-buying experience where they're presented with options throughout the sales process. Successful dealerships realize the importance of maximizing these opportunities by paying attention to this demographic and understanding their needs.
During GM Financial's Near Prime Workshop, your staff will:
Learn about the benefits of growing a near-prime customer base, identifying their needs, overcoming common objections and selecting the right vehicle
Discuss best practices and tips for integrating near-prime shoppers into the existing sales process
Develop strategies to enhance the overall buying experience to improve CSI scores
DealerSource™
DealerSource is your premier online destination to shop hundreds of premium GM vehicles available right now. Shop CPO-eligible Off-Lease and returned Company Cars and Rental vehicles.
Physical or online auctions
GM Financial and GMCC vehicles are sold at ADESA, Manheim and independent auto auctions across Canada.
NAAA certified
Purchase NAAA silver certified units to bring added confidence when purchasing from the GM Financial lane at auction. Certified vehicles come with a 7-day certification guarantee and 35-point inspection.